What are your rates?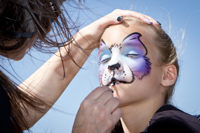 My rates are very competitive and affordable. I personalize your party package based on a few factors, such as the date/time, duration, and type of talent needed (i.e. extra painters, a balloonist, a photographer). I can also offer discounts. For example, when you hire one or more face painters for multiple hours, or hire both a face painter and a balloon artist or photographer. Simply fill out the form on the Contact Me page with details about your event and I'll let you know the rate and availability.
What is needed to secure my date and time?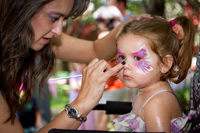 In most cases, I require a small booking fee of $25 (payable online through PayPal ® or by check/money order) to reserve your date/time. Unless other arrangements are made, your date/time are not reserved until this booking fee is received. This booking fee is subtracted from the total amount due - it's NOT an extra charge. It is only non-refundable in the event that you cancel within two weeks of your party. However, if you're planning to reschedule, I'll do my very best to accommodate one new date and time change at no additional cost. I will also need a correct address for the event and a contact phone number for someone in charge of the event. You will also be responsible for parking fees, if applicable. Also, please be aware that only the original booked times are guaranteed. While I often do not mind staying over (addition fees may apply), it may not always be possible due to other commitments. We can certainly discuss this as needed.
What areas do you service?
I live in Plano, but entertain all over the (DFW) Dallas/Fort Worth area. I do not charge any additional travel fees. Generally speaking, I try to stay within an hour of Plano. But, I can venture a little further for the right event. Even if I can't make it to your party, I have connections with many great entertainers all over the area that may be able to help you, so Contact Me and we'll work out the details.
What additional services can you provide?
While some artists claim to do it all, I prefer to only focus on face and body painting. In my opinion, you just can not provide high quality work while trying to do everything else. However, I have a great team to provide more than just face painting, and I can offer discounts when they are hired with me.
Balloons: My two adult daughters are balloon artists and have been doing it for years and can provide just about any balloon animal, hat, flower, or any creative idea that a child can imagine. They've worked all kinds of grand openings, special events and private parties.
Additional Painters: I have a great network of face painters. So, rest assured that if you need more painters, you will only get the same high quality, professional work, that you would get from me. This is the reason that if I am already booked for your date, I can provide you with some very professional referrals.
Do you offer creative photo shoots?
I'm so glad you asked!! Yes, I'd love to work with you to create an amazing personalized photo shoot. We have a real passion for photography and I love combining that with my passion for face and body art.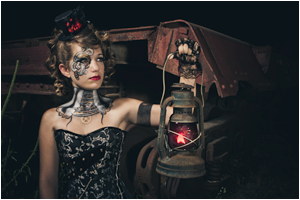 Over the years, we've done several fun photo shoots. You can find the photos in our photo shoot gallery. We have the professional equipment (cameras, strobes/lights, etc.) needed to do indoor and outdoor shoots. We can also offer regular photography for family, seniors, and kids.

Sorry, but we do not shoot weddings. But, we have an amazing wedding photographer friend for that - Leslie Spurlock Photography! Tell her I sent you. ;)
Do you accept credit cards?
Yes, I am able to accept credit card payments either online prior to the day of the event via PayPal® (you do not need a PayPal account), or on-site at the event (using Square®). Once I arrive at the event, the remaining balance can be paid in cash, credit card, money order or company check. Sorry, I no longer accept personal checks. Gratuity tips are very much appreciated if you feel I've exceeded your expectations.
What kind of products do you use?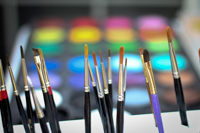 I ONLY use high quality professional makeup products that are safe, water-based, non-toxic, FDA compliant, and are specifically designed and intended for use on skin. They're easily removed with moist paper towels, baby wipes or mild facial soap. These products are the safest, skin-friendly products available on the market today. The glitters/powders that I use are safe, non-metallic, cosmetic high grade glitters and powders intended to be used on skin that come off with no scrubbing. The glitter tattoos are water-proof, latex-free, hypoallergenic, cosmetic grade adhesives that will come off with mild hand soap or simply wear off after a few days.
I DO NOT USE any kind of commercial craft products, such as acrylics, crayons, sharpies, watercolors, metallic or craft glitter, etc. that are not intended to be used on skin. These can contain harsh chemicals that can irritate, injure or damage skin or severely irritate the eyes and even cause severe allergic reactions. PLEASE make sure that anyone you hire DOES NOT use any of these products!
How far in advance do I need to book my event?
I suggest you contact me as soon as you set your date. I have customers that book several weeks, even months in advance, especially during holiday months. Preferably, reservations should be finalized at least 4 to 6 weeks in advance, but I can sometimes fit in last minute needs as well. Even if I'm booked, I can still send you referrals for some great painters. So either way, Contact Me as early as possible.
What should I expect when I hire you?
A few days before your party, you will receive a confirmation email with details of your party. Please look over the contract and verify that all information is correct. Please contact me as soon as possible for any changes or updates.
The day of the party, you should expect me to arrive 15-30 minutes early to get setup and paint the birthday child first (for private parties). If, for some unforeseen reason, such as being stuck traffic, I will call as soon as possible with an estimated arrival time. I will be professionally dressed for the seasonal conditions. Sorry, I typically do not dress as a clown or other characters. Also, the remaining balance is due at this time.
Do I need to provide anything?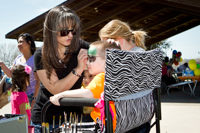 Yes, shade, good lighting and a close parking spot would be great! I bring my own tables, chairs, etc. If the party is outside in the summer time, I need the painting area to be well shaded to protect the make-up, and help keep the children cool. Nobody wants a runny tiger face before they jump out of the chair! The painting area needs to be at least 6' x 6' and level to safely accommodate the table and chair. You'll also want to consider the location of the painting area as the lines can get long and may block or interfere with other games or activities. The balloon artist typically walks around the event and helps me entertain and manage the face painting line, so no special requirements for her. I always try to arrive 15-30 minutes early, so parking may not be an issue, but close parking arrangements would be greatly appreciated and a parking pass will be required, if applicable to your event.
Who can be painted?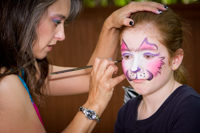 I'm happy to paint on anyone willing to let me! However, based on experience, children under three typically do not want their faces painted. Sometimes they will let me paint small hand art or even apply a glitter tattoo. For sanitary reasons, I use a cotton swab to paint mouths and lips. I can not paint anyone who appears to be sick or suffering from cold sores, conjunctivitis, or any infectious skin condition or open wounds. Additionally, I reserve the right to refuse to paint individuals who, in my opinion, are exhibiting inappropriate or offensive behavior. Such circumstances will be brought to the host's immediate attention.
How many faces can you paint?
Well, that's really a tough question to answer, as there are so many things to consider. While I can do simple cheek art fairly quickly, most kids want full or half face designs, and some designs are more intricate than others. I always strive to give each child the personal attention and high quality work that they deserve while they're in my chair. Obviously, the more time I have with each child, the more detail and "bling" I can add to each design, but I also want to work within your budget. I try to set my pace based on the number of guests that you indicate before the party. So, please let me know if you're expecting more than you originally indicated. With all that being said, I would say on average, I can paint about 15-20 full face designs in an hour - that averages out to be 3-4 minutes per child.
Do you teach face painting classes?
With so many beginner face painters in the Dallas area, I am asked this quite often. Sorry, I do not teach classes at this time. However, if you're looking for makeup, brushes, etc. Contact me and I can put you in touch with dealers in this area.
Any other questions?
Please let me know if you have any further questions about anything at all. I want you to be well informed and I want you to know exactly what I offer and why you should book with me to make your event a fantastic time for everyone.